Eight in ten smokers in Victoria say they want to quit smoking – but few are likely to set themselves up for success in 2018 .
As people draft their New Year resolutions, Quit Victoria is encouraging smokers to develop a plan to help them stick to their smokefree goals.
"Many people start the year motivated and ready to give up smoking, but unfortunately when the holiday period is over and they return to their usual routines, the motivation to stay quit can quickly fade," Quit Victoria Director, Dr Sarah White, said.
"What's more, just one in five people use the most effective quitting approach when trying to stop smoking."
Evidence shows that a comprehensive approach, which includes support from a service like the Quitline combined with nicotine replacement therapy or quitting medication, is the most effective way to quit for good .
"Making a plan and setting a quit date after the festive season is over can help increase your chances of quitting – and staying quit," Dr White said.
"In your plan, you can include the everyday activities that trigger your smoking, like stress, work and traffic, and arm yourself with tactics and tools to help you deal with triggers as a non-smoker.
"Quitting is absolutely achievable. In fact, there are now more ex-smokers than current smokers in Australia."
According to the latest data, an average of 13.3% of Victorians smoke daily. In recent years, the gap between metro and regional rural areas has closed. However, there are significantly more people aged 45-54 smoking daily (17.9%) compared to the state average.
Dr White said while quitting smoking can be difficult, support is available – and it's free for Victorians.
"Not everyone succeeds the first time they try to quit, and some people will try multiple times before they succeed. But no one has to do it alone. Quit Victoria offers a proven coaching program through the Quitline, as well as tools and tips online to help people every step of the way," Dr White said.
"At the end of the day, quitting is the best thing you can do for your health and the benefits are immediate, no matter what your age or how long you've been smoking for."
Call the Quitline on 13 78 48 for personalised support to help you kick the habit for good - or visit www.quit.org.au for information and tools to help plan a quit attempt.
Victorian Population Health Survey 2015, Proportion (%) of adults, by smoking frequency, Victoria, 2015 (page 43)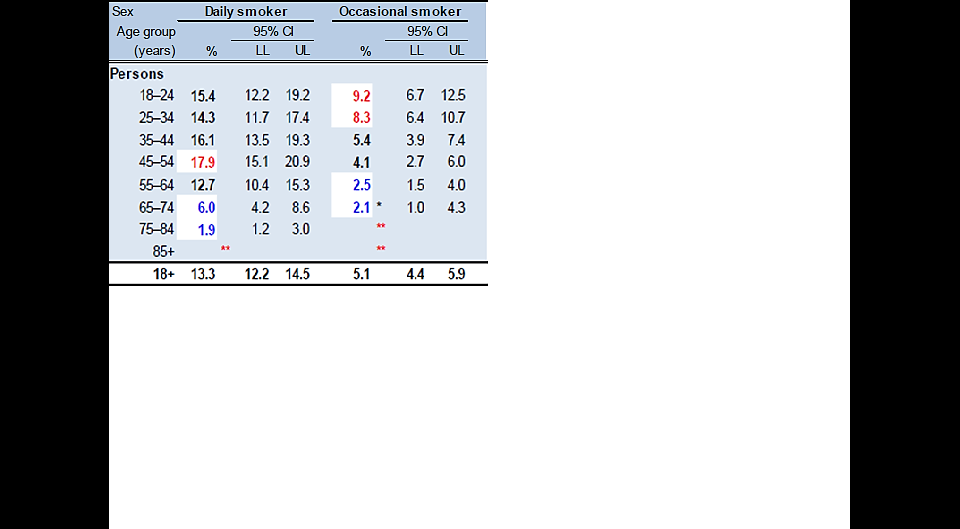 Data are age-specific estimates, except for '18+', which are crude estimates (not age-standardised) for Victoria.
LL/UL 95% CI = lower/upper limit of 95 per cent confidence interval.
Estimates that are (statistically) significantly different from the corresponding estimate for Victoria are identified by colour as follows: above or below .
Estimates may not add to 100 per cent due to a proportion of 'don't know ' or 'refused to say' responses, not reported here.
Relative standard error (RSE) = standard error/point estimate * 100; interpretation below :
* Estimate has a RSE betw een 25 and 50 per cent and should be interpreted w ith caution.
** Estimate has a RSE greater than 50 per cent and is not reported as it is unreliable for general use.
Quit Victoria is a partnership between VicHealth, Cancer Council Victoria, the State Government of Victoria and the Heart Foundation.