A new survey from Cancer Council Victoria has revealed concerning gaps in smokers' awareness of 23 of the health harms associated with smoking.
The research, published in the Medical Journal of Australia online today and funded by the National Health and Medical Research Council, revealed that fewer than one in three smokers knew serious health problems such as type 2 diabetes, ectopic pregnancies, acute leukaemia and rheumatoid arthritis were associated with smoking cigarettes.
Fewer than half were able to identify smoking as a cause of highly fatal cancers such as pancreatic cancer and liver cancer, or other conditions that profoundly affect quality of life, such as erectile dysfunction in men and infertility in women.
Lead researcher Professor Melanie Wakefield, from Cancer Council Victoria's Centre for Behavioural Research in Cancer, said the findings highlight very large gaps in smokers' awareness of the health dangers of smoking.
"We asked Australians whether 23 health conditions were linked to smoking – we were shocked to find that half of the smokers we surveyed didn't know that 13 of the 23 health problems on our list were smoking-related. Many were unaware that cigarettes could increase their risk of liver cancer, pancreatic cancer or acute myeloid leukaemia," Prof Wakefield said.
"On the plus side, 8 in 10 smokers knew about health problems that have been featured in graphic health warnings on cigarette packs or in TV-led public education campaigns, such as lung cancer, throat cancer, emphysema and heart disease, which suggests those messages have got through."
The Australian government is reviewing the 14 graphic health warnings on cigarette packs which have been used since 2012.
Prof Wakefield hoped these findings could help identify which health conditions to use in warnings on cigarette packs in future and which harms to highlight in public education campaigns.
"Graphic health warnings on tobacco products increase knowledge about smoking harms, but to have the greatest impact they must be regularly updated," she said.
"Tobacco use damages nearly every organ of the body, but as this study shows, many Australian smokers are not aware of the wide range of serious health problems they could face if they continue to smoke. With the government's graphic health warnings under review, we have an opportunity to educate Australian smokers about some of the lesser-known harms associated with tobacco use."
Quit Victoria Director Dr Sarah White agreed that a review of cigarette pack health warnings was needed and that public education campaigns were vital for encouraging people to quit.
"We know TV-led public education campaigns drive home the message that smoking is incredibly bad for your health and that they deter youth uptake and motivate people to quit smoking. Public education campaigns can also be used to really reinforce new health warnings on tobacco products and make them more effective, by giving smokers insight into what it would be like to have that disease," Dr White said.
"Quit Victoria would like to see public education campaigns that are complementary to each new warning used to really get the health message across.
"While overall the proportion of Australians who smoke has reduced in recent decades, smoking remains the single leading cause of preventable deaths in Australia. Along with tax increases, across the whole population, TV-led public education campaigns are the most effective way of encouraging smokers to quit and young people not to start."
About the survey:
In September 2017, the Centre for Behavioural Research in Cancer (based at Cancer Council Victoria surveyed 1,806 Australians aged 18-69 about their awareness of 23 health conditions causally associated with tobacco use. Current smokers, former smokers and never smokers were all involved in the survey.
Overall awareness that smoking increases the risk of each condition ranged from 91.2% (lung cancer) to 27.1% (rheumatoid arthritis).
Awareness was generally highest among never smokers.
Australian adults' awareness of health conditions caused by smoking (% who responded "very likely or likely" for each condition)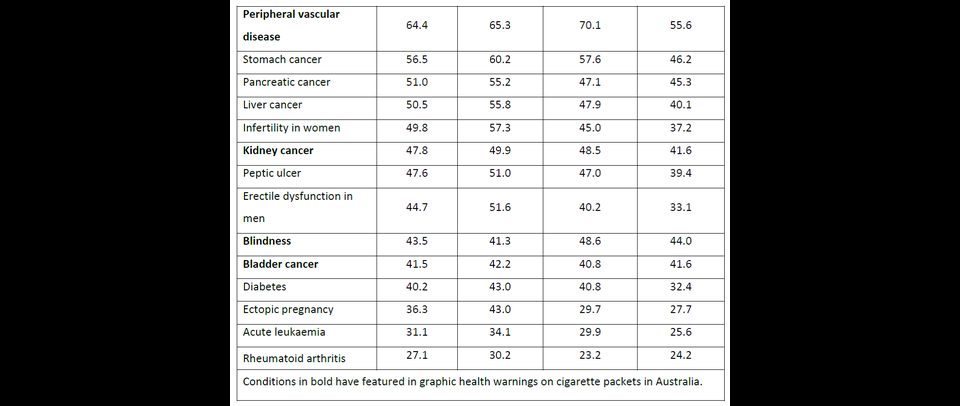 Cancer Council Victoria is a non-profit organisation and has been leading the fight against all cancers for 82 years. We focus on cancer research, patient support, cancer prevention and advocacy. Please visit www.cancervic.org.au for further information.
Quit Victoria is a partnership between VicHealth, Cancer Council Victoria, the State Government of Victoria and the Heart Foundation. For more information, visit www.quit.org.au