Quit Victoria is urging the Victorian Government to take immediate action to ban the sale of tobacco products with squeezable capsules of flavour in their filter which mask the harsh taste of smoke and appeal to young people.
The call comes as a new analysis in the British Medical Journal's Tobacco Control journal reveals how the market for cigarettes with flavour-changing capsules is growing exponentially around the world, and is now the fastest growing segment of the combustible tobacco market. [1]
Quit Victoria Policy Manager Kylie Lindorff said flavour-capsule tobacco products have been carefully designed by the tobacco industry to make smoking more fun and better tasting among young people and non-smokers.
"Tobacco control organisations have been fighting for decades to reach the point we are at – where young Australians are less interested than previous generations in trying or taking up smoking ," Ms Lindorff said.
"But the tobacco industry is working incredibly hard to change this by targeting young people with 'fun' and 'cool' products such as flavour capsule cigarettes which, when the filter is squeezed, release a flavour that makes tobacco smoke more palatable.
"Menthol-flavoured cigarettes, for instance, are easier to smoke, making it more likely that users will get hooked and take up smoking long-term ."[2]
Just last week, new research from Otago University revealed young non-smokers and former smokers saw flavour capsules as more appealing, and were more likely to experiment with these than with unflavoured cigarettes. The susceptible non-smokers were more than three times as likely than smokers to choose a "fruit burst" or "pineapple and mango" flavour than an unflavoured cigarette. [3]
Flavoured cigarettes are now widely available in Australia, with almost all major brands—Winfield, Peter Jackson, Marlboro, JPS, Rothmans, Dunhill etc — now including in their product range at least one product with flavour squeeze balls.
Preference for flavour capsule cigarettes has increased significantly, with Australians aged 18–24 being the most likely to prefer capsule products, and more than half of past-month smokers aged 12–17 years have reportedly tried a capsule cigarette. [4]
"It's incredibly alarming that these products are so readily available in Australia – and have been for several years now – when research is repeatedly showing they make smoking more appealing to young people and non-smokers," Ms Lindorff said.
"The product range and popularity of flavour capsule cigarettes will only continue to grow unless governments take serious action to ban these products. Other countries are moving to stop their sale, but we've seen no action from state or federal governments in Australia.
"We want to see the new Victorian Government exercise its power and ban flavour capsule cigarettes from sale. Issuing a ban on these products does not require legislative change and is something the next Victorian Health Minister can, and should, act on quite quickly by simply issuing a notice in the Victorian Government Gazette.
"If we don't take urgent action, we risk seeing a new generation of young people becoming addicted to a product which kills two in three long-term users."
To date, only Canada, Ethiopia, Senegal and Uganda have banned flavoured tobacco products. They will be banned in Brazil by March 2020 and across much of Europe by May 2020.
BELOW: Example of dual squeeze ball cigarette. Dual squeeze ball products were introduced into Australia in 2017.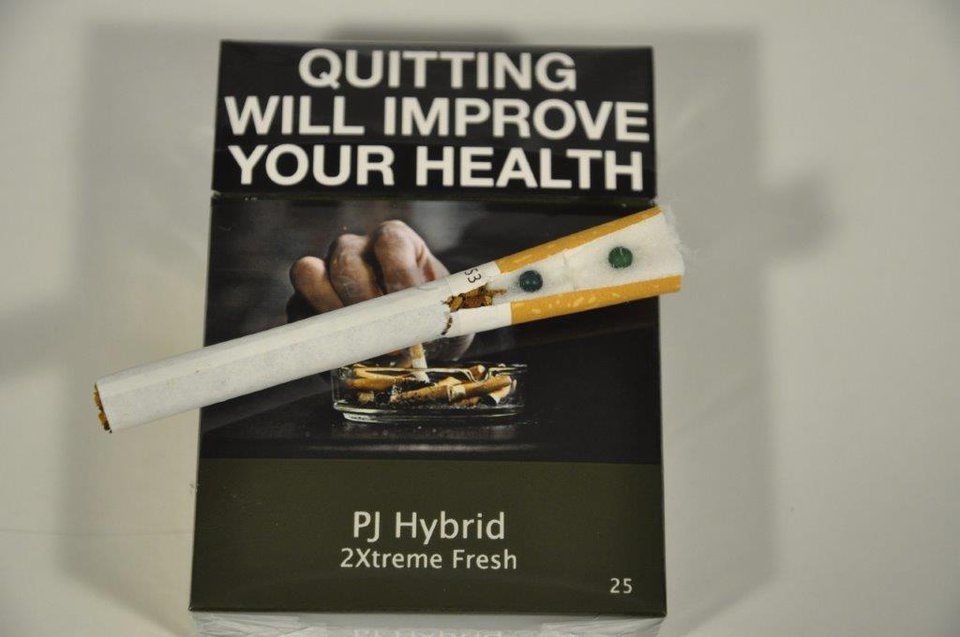 Quit Victoria is a partnership between VicHealth, the State Government of Victoria and Cancer Council Victoria. For more information, visit: www.quit.org.au
---
[1] Moodie C, Thrasher JF, Cho YJ, et al Flavour capsule cigarettes continue to experience strong global growth Tobacco Control Published Online First: 27 October 2018 https://tobaccocontrol.bmj.com/content/early/2018/10/27/tobaccocontrol-2018-054711
[2] Tobacco Products Scientific Advisory Committee. Menthol cigarettes and public health: review of the scientific evidence and recommendations. Washington, DC: Tobacco Products Scientific Advisory Committee 2011. Available from: http://www.fda.gov/downloads/AdvisoryCommittees/CommitteesMeetingMaterials/TobaccoProductsScientificAdvisoryCommittee/UCM269697.pdf.
[3] Researchers surveyed 425 smokers (daily and non-daily), susceptible non-smokers and former smokers aged between 18 and 25. Young adult susceptible non-smokers' and smokers' responses to capsule cigarettes
[4] White V, Williams T. Australian secondary school students' use of tobacco, alcohol, and over-the-counter and illicit substances in 2014. : Centre for Behavioural Research in Cancer: Cancer Council Victoria, 2014. http://www.nationaldrugstrategy.gov.au/internet/drugstrategy/Publishing.nsf/content/E9E2B337CF94143CCA25804B0005BEAA/%24File/National-report_ASSAD_2014.pdf