A new campaign from Quit Victoria and the Pharmaceutical Society of Australia (PSA) is encouraging Victorian smokers to chat to their local pharmacists for advice and support to help them on their quitting journey.
This year, Quit Victoria has trained hundreds of pharmacists across Victoria to improve their confidence and ability to provide advice to patients about quitting.
New figures show around 1 in 6 (16.7%) people in Victoria[i] currently smoke[ii], so Quit Victoria Director Dr Sarah White encouraged smokers to make the most of the accessible and expert information pharmacists can offer.
"When it comes to quitting, people can feel alone and unsure of what the best approach is, or where to go for support and advice. Sadly, just one in five people use the most effective quitting approach when trying to stop smoking – which is to combine Quitline coaching with the appropriate use of nicotine replacement products suited to you," said Dr White.
"Pharmacists can discuss the best therapy for you and ensure its correct use. Pharmacists can also refer you to Quitline for free, personalised quitting coaching.
"We've trained hundreds of pharmacists across Victoria to equip them with the skills they need to start useful quitting conversations with smokers, connect them with Quitline and offer advice on pharmacotherapy.
"And the good news is that in Victoria, there are more former smokers (25%) than current smokers (16.7%), which proves that quitting is entirely achievable."
PSA Victorian Branch President Ben Marchant said pharmacists were in a perfect position to give smokers advice and support.
"Pharmacists are medication experts and are ideally placed to offer quit information and support to their patients. They can advise on how smoking may reduce the effectiveness of medications, and the correct way of using nicotine replacement products to maximise benefits. Pharmacists can also refer patients to their doctor for a prescription medicine," Mr Marchant said.
"They can also advise you on the best way to quit and sign you up for a free Quitline coaching session if you're ready.
"So whether you're just thinking about quitting, are ready to dive in, or are trying to stay smoke-free, your pharmacist can offer friendly support and practical advice to help you on your journey."
Between June and September, Quit Victoria delivered accredited professional development training to pharmacists in several locations across metropolitan and regional Victoria.
The training was accredited by PSA.
The Victoria-wide campaign encouraging smokers to speak to their pharmacists about quitting will air on radio, digital and in medical waiting rooms until late December.
Proportion of adults by smoking status (daily and occasional), Department of Health and Human Services region (Victorian Population Health Survey 2016, page 34).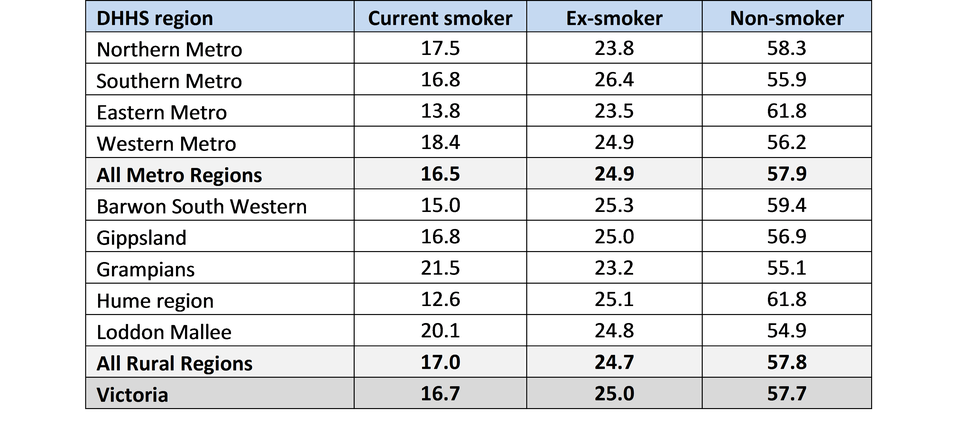 *Note: Due to a change in survey methodology in 2015, surveys conducted after 2015 are not comparable to those conducted prior to or including 2014.
Below: Campaign materials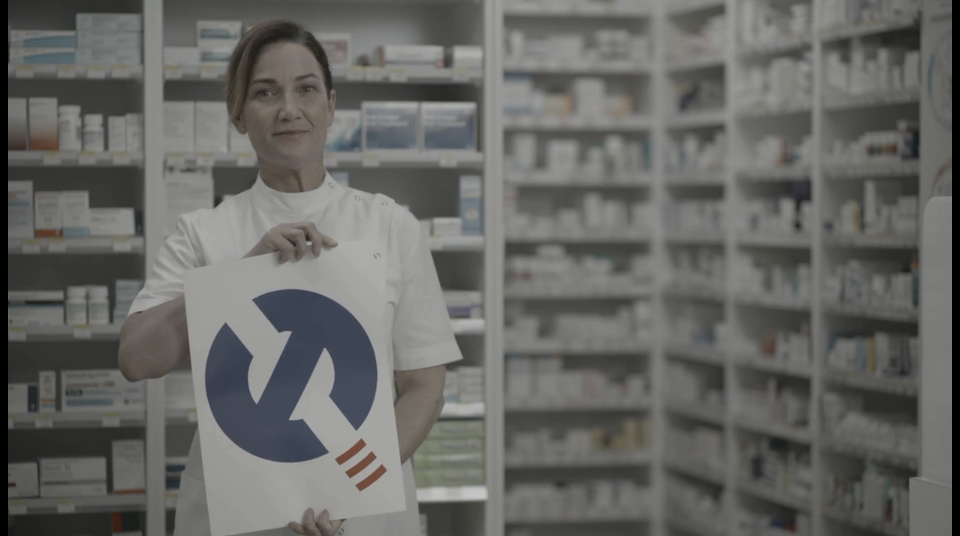 PSA is the peak national professional pharmacy organisation representing Australia's 30,000 pharmacists working in all sectors and across all locations.
Quit Victoria is a partnership between VicHealth, the State Government of Victoria and Cancer Council Victoria. For more information, visit: www.quit.org.au
---
[i] Victorian Department of Health and Human Services region
[ii] The Victorian Population Health Survey 2016 – smokers are defined as daily and occasional smokers.