Quit Victoria and its partners in the "Tackling Tobacco Program" have been highly commended for their efforts in working to reduce smoking rates among people living with mental health conditions at last night's VicHealth Awards.
Held annually in Melbourne, the VicHealth Awards recognise those who champion health promotion across a wide range of communities.
Quit, NorthWestern Mental Health (NWMH), EACH and Orygen Youth Health (OYH) were praised for their "Tackling Tobacco" efforts and commended in the Preventing Tobacco Use category.
Quit's Community and Programs Manager Rachel Whiffen said the recognition serves as a testament to the hard work and commitment of the Tackling Tobacco partners.
"It's an honour to be recognised for our work in tackling health inequities experienced by people living with mental health conditions," Ms Whiffen said.
"When Quit joined forces with NWMH, EACH and OYH in 2016, our goal was to provide an organisational change framework that helps mental health services embed best practice smoking cessation care into their everyday support. So far, we have reached more than a 1000 people and 250 staff in mental health services across Victoria."
NWMH's Operations Director Peter Kelly said the commendation demonstrates the benefits of working collectively to reduce poor health outcomes among people living with mental health conditions.
"NWMH has been confronted by mortality data over the past six years indicating that the average age of death for adult consumers dying of natural causes is 48.7 years, many of which are attributable, either directly or indirectly, to smoking," said Mr Kelly.
"Our partnership with Quit Victoria has been motivated by a shared goal to improve health outcomes for consumers under our care. This partnership has demonstrated that with good leadership and expertise, alongside a consistent focus on driving improvements in the area of physical health assessment, referral and treatment, consumers can be supported to reduce or cease their use of tobacco."
The program has enacted meaningful change in other mental health services, with OYH and EACH both remarking on their increased capacity to support those trying to quit.
Orygen Youth Health's Consultant Psychiatrist, Dr Enrico Cementon, said, "At Orygen Youth Health, through the Tackling Tobacco initiative, we've seen young people actively seek assistance to become smoke free, despite the challenges faced when experiencing mental illness as a young person. Through staff training, tailored resources, and local leadership, Orygen is readily equipped to support young people."
EACH's National Disability Insurance Scheme and Aged Care Service Manager, Lisa Gort, said, "EACH (Recovery South East) supports people who experience long-term mental illness and who, more often than not, are long-term smokers. Through Tackling Tobacco, we've seen significant improvements in staff attitudes in supporting people to quit, now knowing that people experiencing poor mental health are motivated to live a smoke free life."
"With the support of our Smoking Cessation Peer Support Worker, we've been able to strengthen people's confidence to make a quit attempt and remain smoke free. This has had a profound impact on people's lives – building their self-confidence, improving their physical and mental health, and enabling them to now afford public transport to get to work."
Cancer Council Victoria had a strong showing at the VicHealth Awards with two other campaigns nominated on the night; the SeeUV app developed by SunSmart, and the Do the home screening test – it could save your life campaign developed by the Screening, Early Detection and Immunisation (SEDI) team. Both were nominated in the Communications in Health Promotion category, with SEDI being awarded for their efforts on the campaign.
To find out more about the initiative and the resources available, visit our Tackling Tobacco page.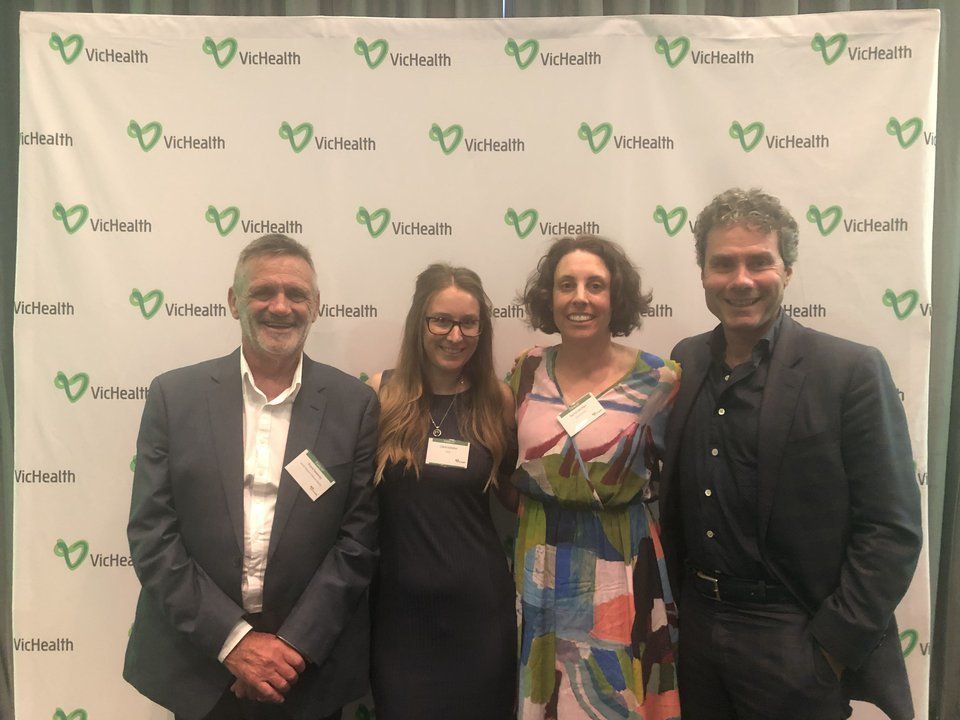 L-R: Shane Sweeney (NWMH), Claire Gallaher (EACH), Rachel Whiffen (Quit Victoria), and Dr Enrico Cementon (Orygen Youth Health)
Quit Victoria is a partnership between VicHealth, the State Government of Victoria and Cancer Council Victoria. For more information, visit: www.quit.org.au
NorthWestern Mental Health - Tackling Tobacco Implementation Group is part of Melbourne Health. For more information, visit www.nwmh.org.au
Orygen Youth Health is a service of NorthWestern Mental Health and Melbourne Health. For more information, visit www.ohy.org.au
EACH is community based organisation. For more information, visit www.each.com.au