Smoking prevalence reaches landmark 10% figure in Victoria
Data from Cancer Council Victoria's Victorian Smoking & Health Survey 2018 show that just one in ten Victorian adults now report being daily smokers, with significant decreases in smoking seen across regional Victoria and in communities with socioeconomic disadvantage.
According to Quit director, Dr Sarah White, the decrease in prevalence is being driven by increases in both the proportion of people who have never smoked and the proportion of people who used to smoke but have now successfully quit.
"Since 2015, the Centre for Behavioural Research in Cancer at the Cancer Council has been tracking the annual change in the proportion of former smokers," said Dr White. "And what they've found is a statistically significant increase in quitting from 55.4% in 2015 to 60.4% in 2018, which is tracking with a statistically significant decrease in smoking prevalence from 13.5% in 2015 to 10.7% in 2018."
Dr Lyn Roberts, Acting CEO of VicHealth, which funds the Victorian Smoking & Health Survey along with the Department of Health & Human Services, said the latest results demonstrated the positive impact tobacco reforms are having in Victoria.
"It's fantastic to see an increasing number of Victorians are being supported to quit the habit and give up smoking thanks to the combined efforts of public health organisations and governments. The decrease in the daily smoking rate shows the three recent tax increases have made a big difference. Price is by far the most effective measure to motivate people to stop smoking, followed by television-led public education campaigns and smokefree legislation."
The survey showed that the benefits of tobacco control measures were being shared across nearly all key subgroups in the population, with fewer than one in ten Victorian women now being daily smokers. Smoking among regional Victorians fell from 14.3% to 11.1% and smoking by people with healthcare cards fell from 16.3% to 12.2%.
"The evidence is clear: Smoking kills, and second-hand smoke can be just as harmful for non-smokers. We make no apologies for our tough new laws aimed at keeping people safe from the dangers of smoking and encouraging more people to quit the insidious habit. We've prevented smoking in outdoor dining areas, on top of our tough regulations that prevent people lighting up outside public hospitals, schools, childcare centres, courts and police stations."
Minister for Health, Jenny Mikakos, welcomed the new data, "Smoking places an enormous burden on our health system and economy but, more importantly, our community. These results show that our efforts to help people quit and to stop teenagers taking up smoking are working, and they're working right across Victoria. I'm particularly pleased to see the prevalence among regional Victorians, people with healthcare cards and those who haven't finished Year 12 education all falling."
According to Cancer Council Victoria chief executive officer Mr Todd Harper, the number of Victorians who smoke is likely to continue to fall, with only the rate in question.
"Research published internationally by the Centre for Behavioural Research in Cancer this month showed that most Victorian smokers intend to quit or are actively trying to quit. The concept of 'hardcore' smokers who don't want to quit is simply not supported by the evidence," said Mr Harper.
Leading health groups in Victoria believe it is possible for Victoria to be one of the first jurisdictions in the world to reach a target of 5% smoking prevalence by the year 2025 if there is a continued focus on tobacco control.
Daily smoking in Victoria by demographic groups, 2015 to 2018 (base: adults aged 18+ years)
The Victorian Smoking and Health Survey is a cross-sectional, annual telephone survey of approximately 4000 randomly sampled English speaking Victorian adults. Data from the 2015, 2016, 2017 and 2018 surveys were examined to inform this research brief.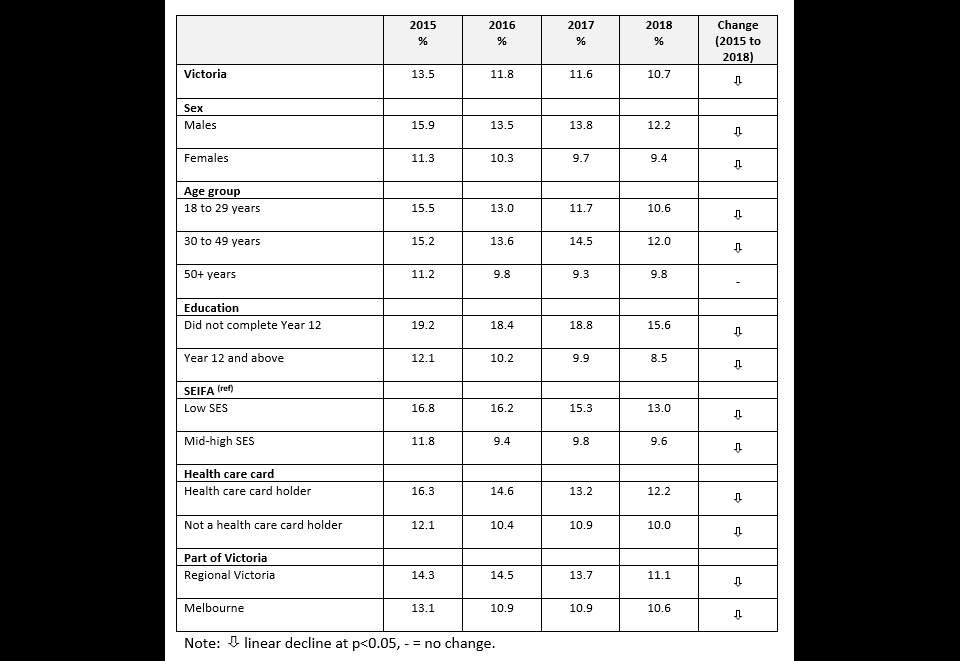 Quit Victoria is a partnership between VicHealth, the State Government of Victoria and Cancer Council Victoria.