As an Aboriginal Health Worker, Tackling Indigenous Smoking (TIS) worker or health professional working with Aboriginal and Torres Strait Islander communities, you play an important role in empowering mob to give up the smokes. You are often the first point of contact to help the mob start their quit journey. By giving brief advice, yarning and listening about smoking habits, triggers, stresses, and their reasons for wanting to quit, you can help guide mob through their quitting journey.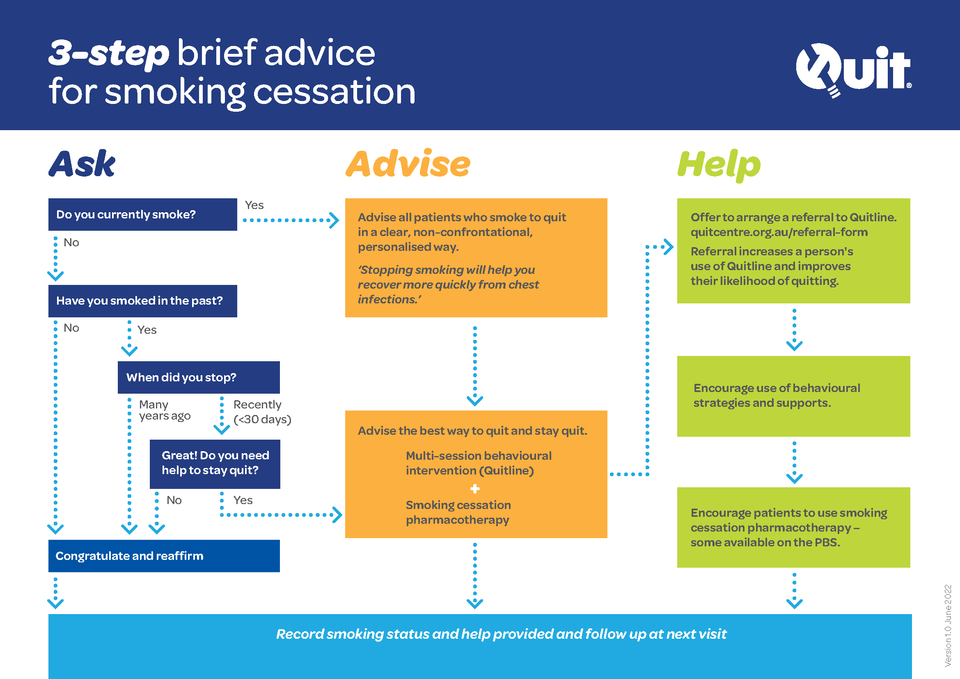 Offer and provide support to your community members or clients who smoke by following the brief advice model 'Ask, Advise, Help':
The Ask, Advise, Help (AAH) model outlined below shows how you can have a yarn about quitting smoking in a non-judgemental and supportive way. The yarn about quitting can take anywhere from 30 seconds to 10 minutes. It reinforces the importance of stopping smoking, boosts motivation and will often trigger a quit attempt.
1. Ask
Ask all clients whether they smoke. Asking will also help you understand:
Why they smoke

Motivations or reasons for quitting

Their smoking habits and triggers

What stops them from quitting.
2. Advise
Advise all clients who smoke to quit in a supportive and non-judgemental way and advise of the best way to quit, which is with behavioural counselling through Aboriginal Quitline and nicotine replacement therapy (NRT).
If they are not ready to address their smoking, then talk to them in a clear, non-confrontational and personalised way:
"Stopping smoking is the single most important thing you can do for your health" 

"Stopping smoking can save you money and improve the overall health of your family"

"I'm here to help whenever you're ready to talk about how you can quit".
3. Help
Help by offering a referral to Aboriginal Quitline (13 7848) and providing information about nicotine replacement therapy (NRT).
You can also order or download resources to offer – such as the Aboriginal Quitline brochure and information about NRT – via our Resources order form.
How to refer to Aboriginal Quitline (13 7848)
Referring to Aboriginal Quitline is simple:
Gather your client's information and consent to refer to Aboriginal Quitline

Complete the online or fax referral form

Keep a copy of all people you refer for your records.
You may also like to call 13 7848 with your client present and ask to yarn with an Aboriginal Quitline counsellor.
What happens after a referral to Aboriginal Quitline is received?
Once a referral is received, one of our deadly Aboriginal Quitline counsellors will contact the client. Our Aboriginal and Torres Strait Islander counsellors are qualified in smoking cessation. Their number one priority is to ensure a culturally appropriate safe space for the mob to yarn about their smoking. Learn more about Aboriginal Quitline.
Aboriginal Quitline will continue to support the client after the referral has been received. They will:

yarn, encourage, motivate, and actively listen to their concerns regarding giving up the smokes.

help build a tailored quit plan, provide NRT information and provide advice on dealing with cravings, nicotine withdrawals and how to manage triggers.

provide ongoing one-on-one telephone counselling.
Aboriginal Quitline will provide you with a summary of outcomes when the person has finished using our service. This information is useful for you to continue providing support for them during any follow up appointments you may have with them. Ongoing encouragement to stay quit may be required and don't be afraid to re-refer to us, no fuss.
Shared care
Shared care is forming a partnership to achieve a common goal – helping Aboriginal people quit smoking or vaping.
A shared care approach shows how the work you do in the community, in addition to the behavioural support of Aboriginal Quitline, creates a culturally supportive environment and the best chance of successfully quitting long term. For more information download the Shared Care flyer.
General Practitioner or Aboriginal Health Worker
Encourage your mob to talk to their GP or Aboriginal Health Worker about their plans to stop smoking and about NRT. They can assist with prescribing NRT and advise on how their usual medicines may need adjusting when they stop smoking.
---
Suggested Resources