Tackling Indigenous smoking (TIS) rates is part of Quit's long-term commitment to Aboriginal programs.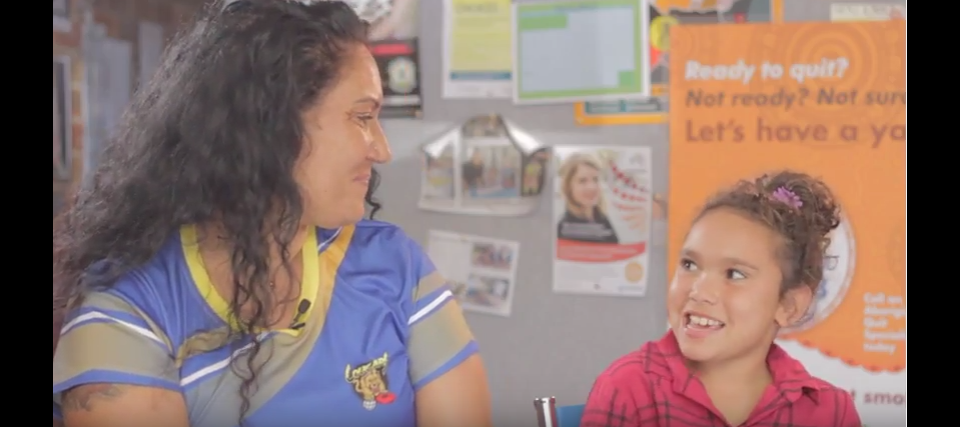 What are TIS activities
Tackling Indigenous Smoking (TIS) activities take a population health approach which aims to inform and support people in their decisions not to smoke or vape or to quit smoking or vaping. These activities will:
Encourage community engagement in and support for local TIS activities

Increase community understanding of the dangers of smoking and chewing tobacco and the links between tobacco and chronic disease, as well as the dangers of e-cigarettes and vaping

Increase awareness of the pathways to quitting among workers and community leaders

Promote the benefits of never becoming a smoker

Seek to reduce exposure to secondhand and thirdhand smoke

Improve access to targeted support to quit through clinical and non-clinical services

Encourage and facilitate use of Aboriginal Quitline.
TIS-funded organisations are part of an overall preventive health system. Access to clinical best practices (behavioural and pharmacological) will help people who smoke increase their likelihood of quitting successfully.
A TIS-funded organisation that has clinical services might offer some of these activities itself. Developing referral pathways to the services available locally, whether your own or another service, is a central part of TIS work. Such services include:
Nicotine replacement therapy (NRT)

Aboriginal Quitline support

Smoking and vaping cessation counselling

Developing skills and training opportunities for their staff and other organisations to be able to deliver brief intervention.
TIS-funded organisations develop and implement smokefree policies within their own organisation and can support other organisations to implement their own smokefree policies.
Tackling Indigenous Smoking - Melbourne
Victorian Aboriginal Health Service (VAHS) provides a range of medical, dental and social services for the Aboriginal and Torres Strait Islander community in Melbourne. As well as providing a variety of medical services, VAHS is committed to supporting the well being of the community through contributions to community events and activities.
The VAHS Tackling Tobacco Team is a part of the larger Healthy Lifestyle Team, and works with a focus on smoking cessation throughout the community, covering 15 areas within the inner, north and western regions. TIS team activities include:
Client support and education

Health promotion and smoking cessation education at community events

Presentations to young people and other organisations

Referrals to Aboriginal Quitline.
The team partners with the Aboriginal Quitline wherever possible and makes good use of social media (including Facebook , Twitter, and Instagram), an SMS service, emails, phone calls and presentations in the community to promote healthy lifestyles.
As part of their TIS activities, VAHS runs the Coach Program, a weekly health and well being program for Aboriginal children in Melbourne's northern suburbs. Coaches from VAHS work in partnership with Yappera Children's Services and Bubup Wilam for Early Learning to deliver 30-minute program sessions. Each Coach lesson has a theme that aims to promote the No Smokes message, physical activity, drinking water, oral health, team work, the Sun Smart message, and knowledge of nutrition in a culturally safe space. The program enables coaches to build mentoring relationships with participants that extend beyond the childcare setting. In addition, VAHS runs the Six Week Challenge program, a healthy lifestyle program with a focus on tobacco reduction. A case study of the Six Week Challenge was conducted by CIRCA as part of the preliminary TIS evaluation, and is available here.
Tackling Indigenous Smoking - Dandenong
Dandenong & District Aborigines Co-operative Limited (DDACL) is an Aboriginal Community Controlled Health Organisation providing services to meet the needs of local Aboriginal and Torres Strait Islander people across the Southern Metropolitan Melbourne area of Victoria.
The DDACL Tackling Indigenous Smoking program provides smoking prevention and care throughout the DDACL catchment area, which includes:
Bayside

Cardinia

Casey

Frankston

Greater Dandenong

Kingston, Knox

Monash

Mornington.
The TIS program includes a number of activities including a weekly yarning group to encourage and support community members to quit smoking or continue their ex-smoking status. The group is open to the Aboriginal and Torres Strait Islander community, including partners of Aboriginal and Torres Strait Islander people.
The team also have a strong social media presence through their Kick the Butt anti-smoking campaign. Kick the Butt is aimed at raising awareness in Aboriginal young people that smoking tobacco is not part of culture, and giving tools to those who want to quit.