Did you know: Smoking rates in the lesbian, gay, bisexual, transgender, intersex and queer (LGBTIQ+) communities are about double the national average? We're committed to raising awareness of the high smoking rates in LGBTIQ+ communities and supporting people to quit.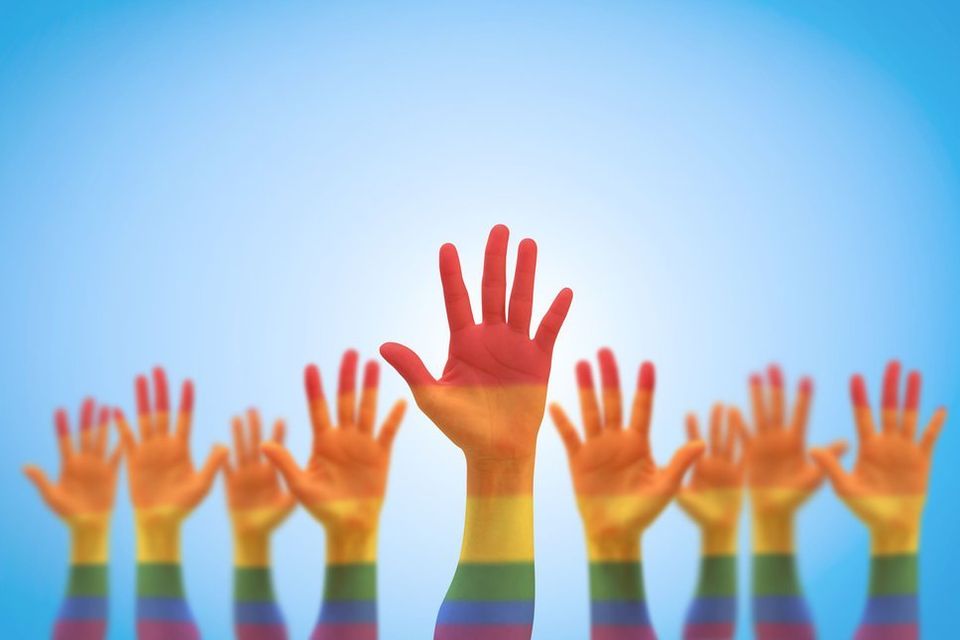 Our projects with the LGBTIQ+ community to raise awareness
We have been working with LGBTIQ+ organisations, including Thorne Harbour Health, Minus 18 and Melbourne Queer Film Festival (MQFF) to raise awareness of high smoking rates in the LGBTIQ+ community.
Projects include:
Smokescreen
Held as part of MQFF 2019, the Smokescreen panel event at ACMI explored the links between queer art, film and culture, and LGBTIQ+ health and human rights.
One of the reasons why smoking rates in LGBTIQ+ communities are double compared to the general population is because of tobacco companies' marketing tactics which have exploited queer popular culture.
Research shows that movies with LGBTIQ+ themes contain a depiction of tobacco use every 15 minutes!
Smokescreen was hosted by Australian author, journalist and screenwriter Benjamin Law.
The panel discussion included:
Ro Allen, Victorian Commissioner for Gender and Sexuality
Dr Julie Mooney-Somers, Senior Lecturer in Qualitative Health Research at the University of Sydney.

Cerise Howard, Co-curator of the Melbourne Cinémathèque, co-founder of tilde: Melbourne Trans and Gender Diverse Film Festival, and Artistic Director of the Czech and Slovak Film Festival of Australia.

Jordan Raskopoulos, Australian comedian, actor and singer.

Colin Batrouney, Director of Health Promotion, Policy and Communications at Thorne Harbour Health.

Todd Harper, CEO Cancer Council Victoria
Interview with author, journalist and screenwriter, Benjamin Law
Interview with Dr Julie Mooney-Somers (Senior Lecturer, School of Public Health, University of Sydney)
QuitFlicks
In 2019, we partnered with Melbourne Queer Film Festival and Thorne Harbour Health to provide a platform from which budding filmmakers across Australia could produce material that could empower LGBTIQ+ communities to live smokefree. A short film competition - QuitFlicks - was born. The competition ran for two years and the resulting short films are powerful, innovative and sincere - made by and for the LGBTIQ+ community. Watch all the QuitFlicks short films here.
Screenwriter and member of the competition judging panel, Benjamin Law, said all films were of an exceptional standard.
"We were blown away by the quality of the entries," Law said. "We're so grateful for everyone who invested their time and effort to support social justice across our communities."
The competition attracted an incredible 4000-plus people who either watched or voted for their favourite film.
The competition helps us and our partners at MQFF and Thorne Harbour Health start a conversation about the normalisation of smoking in the LGBTIQ+ community.
Rolled by Rosie Pavlovic: QuitFlicks 2020 film comp winner
Fuming by Sam McGowan: Keep the Vibe Alive short (QuitFlicks) 2019 film comp winner
Quitline is a culturally safe space
In January 2019, we worked with LGBTIQ+ communities to continue to make Quitline an inclusive and a culturally safe space. Quitline counsellors can chat to LGBTIQ+ communities in a culturally appropriate and accessible way.
LGBTIQ+ peers also work in the service.
Since this recent collaboration, calls to the Quitline from LGBTIQ+ communities have increased.
Quitline counsellors offer personalised support over your quitting journey. They can help plan, make and sustain your quit attempt.
Calling Quitline — 13 7848 or request a callback — increases the chance of quitting.