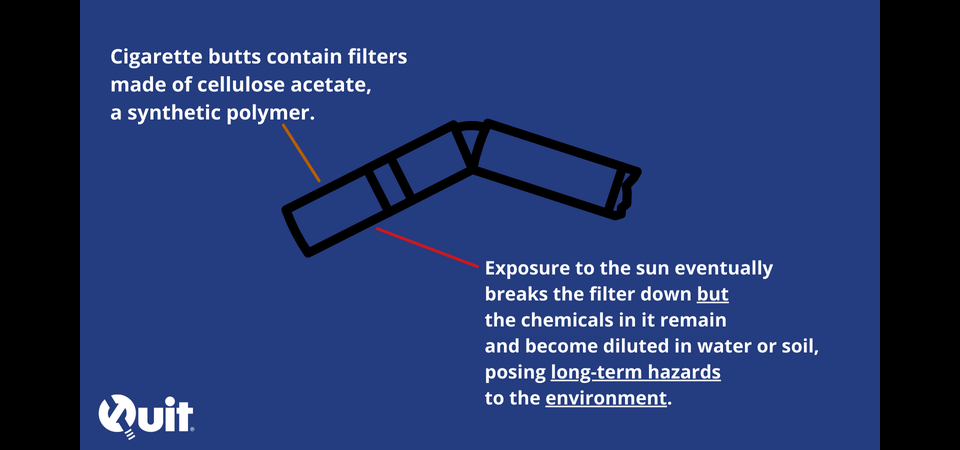 One way cigarette butts pollute our environment: cigarette butts contain filters made of a synthetic polymer called cellulose acetate. Exposure to the sun eventually breaks down the filter but the chemicals in it remain and become diluted in water or soil, posing long-term hazards to the environment.
The United Nations Environment Programme (UNEP) this week launched a partnership with the Secretariat of the World Health Organization Framework Convention on Tobacco Control (WHO FCTC) to raise awareness and drive action on the extensive environmental and human health impacts of plastic filters found in cigarette butts.
Cigarette butts are the most discarded waste item worldwide, accounting for approximately 766.6 million kilograms of toxic trash each year. They are the most abundant form of plastic waste in the world, with about 4.5 trillion individual butts polluting our global environment.
Quit Director Dr Sarah White says the international campaign is critical for drawing attention to the environmental footprint associated with the manufacture and shipping of cigarettes as well as butt and e-cigarette litter.
"A Clean Up Australia report found cigarette butts were the single most reported litter item across Australia, in 2020 representing 16% of all recorded items," said Dr White. "And we're now seeing e-cigarette litter increasing, which is a great concern. Much of the e-cigarette litter is not only single-use plastic, like cigarette butts, it's also e-waste and a biohazard."
According to Dr White, education campaigns about binning butts had only limited effectiveness. "Really, the only way to truly stop the environmental damage caused by cigarette production and disposal is to support people to stop smoking and vaping so that we can phase out the sale of commercial tobacco products and e-cigarettes.
"I think that, if more Australians were aware of the extent of the environmental damage caused by cigarettes and e-cigarettes – which is exactly what this UNEP/WHO partnership is trying to achieve – we would see more Australians trying to quit smoking and vaping."
Notes:
About the United Nations Environment Programme (UNEP)
UNEP is the leading global voice on the environment. It provides leadership and encourages partnership in caring for the environment by inspiring, informing and enabling nations and peoples to improve their quality of life without compromising that of future generations.
About the Clean Seas campaign
UNEP's Clean Seas campaign connects and rallies individuals, civil society groups, industry, and governments to catalyse change and transform habits, practices, standards, and policies around the globe to dramatically reduce marine litter and its negative impacts.
About the World Health Organization Framework Convention on Tobacco Control (WHO FCTC)
The WHO FCTC is the first global public health treaty and is one of the most rapidly and widely embraced treaties in United Nations history. It was developed in response to the globalization of the tobacco epidemic and is an evidence-based treaty that reaffirms the right of all people to the highest standard of health. The Convention represents a milestone for the promotion of public health and provides new legal dimensions for international health cooperation.